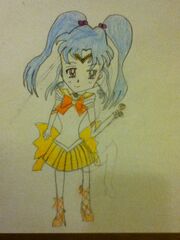 Sailor Chibi Jupiter
250px


Name

Mia Kino

Age

5(Season 1) 6(Season 2) 7(Season 3) 8(Season 4) 9(Season 5) 10(Season 6) 11(Season 7) 12(Season 8) 13(Season 9) 14(Season 10)

Status

Sailor Senshi

Height

122 cm

weight

30 kg

Blood Type

B

Birth Date

December 4 2006
Apperance
Edit
Mia has blue hair who are put in two pigtails tied with purple elastics and dark purple eyes.
Sailor Chibi JupiterEdit
She wears same dess as all sailor senshis exept that the bow is orange.with a yellow skirt,orange shoes and a blue flower choker.
Personalitty
Edit
She is calm,brave and cute.She is just 5 but she looks to be 9 or 11
Ad blocker interference detected!
Wikia is a free-to-use site that makes money from advertising. We have a modified experience for viewers using ad blockers

Wikia is not accessible if you've made further modifications. Remove the custom ad blocker rule(s) and the page will load as expected.