Kit Otsune
AKA Sailor Plara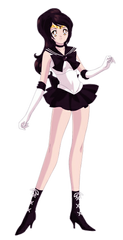 | | |
| --- | --- |
| Title | {{{title}}} |
| Nickname | Yin Yang Sailor Scout |
| Fullname | {{{fullname}}} |
| Real Name | {{{realname}}} |
| Other Name | {{{Other Name}}} |
| Gender | Female |
| Age | 16 |
| Birthdate | March 12, 1998 |
| Height | {{{Height}}} |
Professional Status
| | |
| --- | --- |
| Nationality | {{{nationality}}} |
| Birthplace | Tokyo (Parallel Universe) |
| Debut Place | Sailor Plara Appears |
| Current Place | {{{now in}}} |
| Race | Human |
| Occupation | {{{occupation}}} |
| Speciality | {{{speciality}}} |
| Hobby | {{{hobby}}} |
| Language | {{{language can speaks}}} |
| Team | {{{team}}} |
Transformation & Powers
| | |
| --- | --- |
| Current Henshin | {{{current ego}}} |
| Other Henshin | {{{other transformation}}} |
| Special Henshin | {{{special}}} |
| Powers | {{{powers}}} |
Relatives
| | |
| --- | --- |
| Brother | N/A |
| Sister | N/A |
| Mother | Mrs. Otsune |
| Father | Mr. Otsune (Deceased) |
| Team-mates | {{{team-mates}}} |
| Others | {{{others}}} |
Kita Otsune aka Sailor Plara is a Sailor Scout from a parallel universe. 
Biography
Edit
Kite Otsune is a reincarnation of the princess of Planet Plara.
The first monster she fought in her world had the ability to control others through dancing. 
Powers and Abilities 
Edit
Ad blocker interference detected!
Wikia is a free-to-use site that makes money from advertising. We have a modified experience for viewers using ad blockers

Wikia is not accessible if you've made further modifications. Remove the custom ad blocker rule(s) and the page will load as expected.